In 2011, a client presented me with a new problem. I devised a solution and wanted to share what I learned. My client bought a new Panasonic 55 inch flat panel TV, model Viera TVP55VT30. After he'd set up the TV in his home, he looked for a headphone jack and was surprised that he couldn't find one. This particular model of TV only had a digital audio output connector!Update July 2014: This solution works for most situations, but not all. The source of the error in those situations is not known at this time. Be sure to keep your receipts in case it doesn't work so that you can return the products. There is no guarantee this will work in your situation.
The new Panasonic TV did not have an old-fashioned analog audio connector, aka a mini stereo jack, which would accept the plug on his analog headphones. After spending time talking to Panasonic's support staff and doing some research via Google, he was confused by the lack of a simple and affordable solution. Numerous people had directed him to find a digital to analog converter and the appropriate cables to connect everything, but nobody could identify exactly what he needed and the items that he found would cost over $100. I did some research and pieced together a solution that cost about $27.
We bought a $23 digital to analog converter and two cables which each cost about $2. The digital analog converter converts either coaxial or optical (Toslink) digital stereo audio signals to analog stereo audio. My client's Panasonic TV had an optical Toslink connector, so we bought a 6 foot Toslink cable. Some televisions may require a digital coax cable. I list both cables below. Finally, we used a 6″ adapter which connected to the digital to analog converter's dual RCA (aka phono) connectors and had a stereo mini jack on the other head which would accept his headphone's plug.
Digital to Analog converter for $23 from Monoprice.com. See image below. On the Input side it has a Toslink digital audio connector with a hinged door. This connector is square in shape with two beveled corners. The other connector is used if you're using the digital coax cable with a round RCA connector. The Output side has two RCA audio jacks and a plug for the AC power cord.
Optical Toslink cable for $1.94 from Monoprice.com. See image of connector below. The tip in this connector is 3.5 mm (1/16″) which is the same diameter as a stereo mini jack. The tip is typically surrounded by housing that is square in shape, but has two beveled corners. This housing pushes open the hinged "door" that commonly covers digital audio connectors on TV or other electronic equipment. I should also mention that there is a Toslink mini connector. It's tip is even skinnier and typically not enclosed by any sort of housing. Monoprice sells a Toslink to Toslink mini adapter. I've never seen a television set that takes a Toslink mini connector.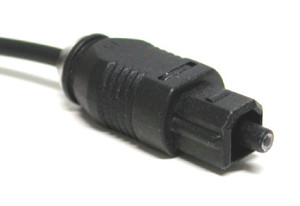 Digital Coax cable for $1.28 from Monoprice.com. See image below. It has a round tip in the middle that extends slightly beyond its round housing.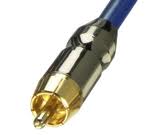 Stereo Female to Dual RCA Male cable for $1.79 from Monoprice.com which looks like the 6-inch cable below.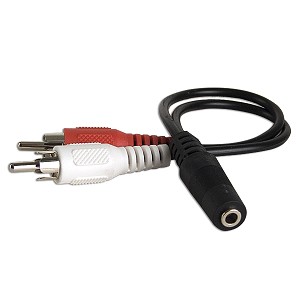 I was very surprised that a TV manufacturer wouldn't include an inexpensive analog audio jack for headphones. If you find yourself in this pickle some day, please know that there is an affordable solution.
Here are some additional pictures to help identify the type of connector on your TV, which should help you determine the cable you need. The left-hand image shows the two common digital audio connectors that you'd find on the back of a TV, a CD player or other audio-video equipment. The round digital coax RCA connector is on the left. The digital Toslink connector is on the right. Its outer shape is square and has two beveled corners. The round hole in the center often has a red laser beam light (fiber optic signal) inside, though there is often a hinged door which covers this central hole. This Toslink connector does not have a hinged door. Instead, if this connector is not used the stopper plug (object at bottom right of image) is inserted to block the laser beam. The image on the right shows a Toslink connector on the left with its hinged door closed. On the right is the digital coax RCA connector.